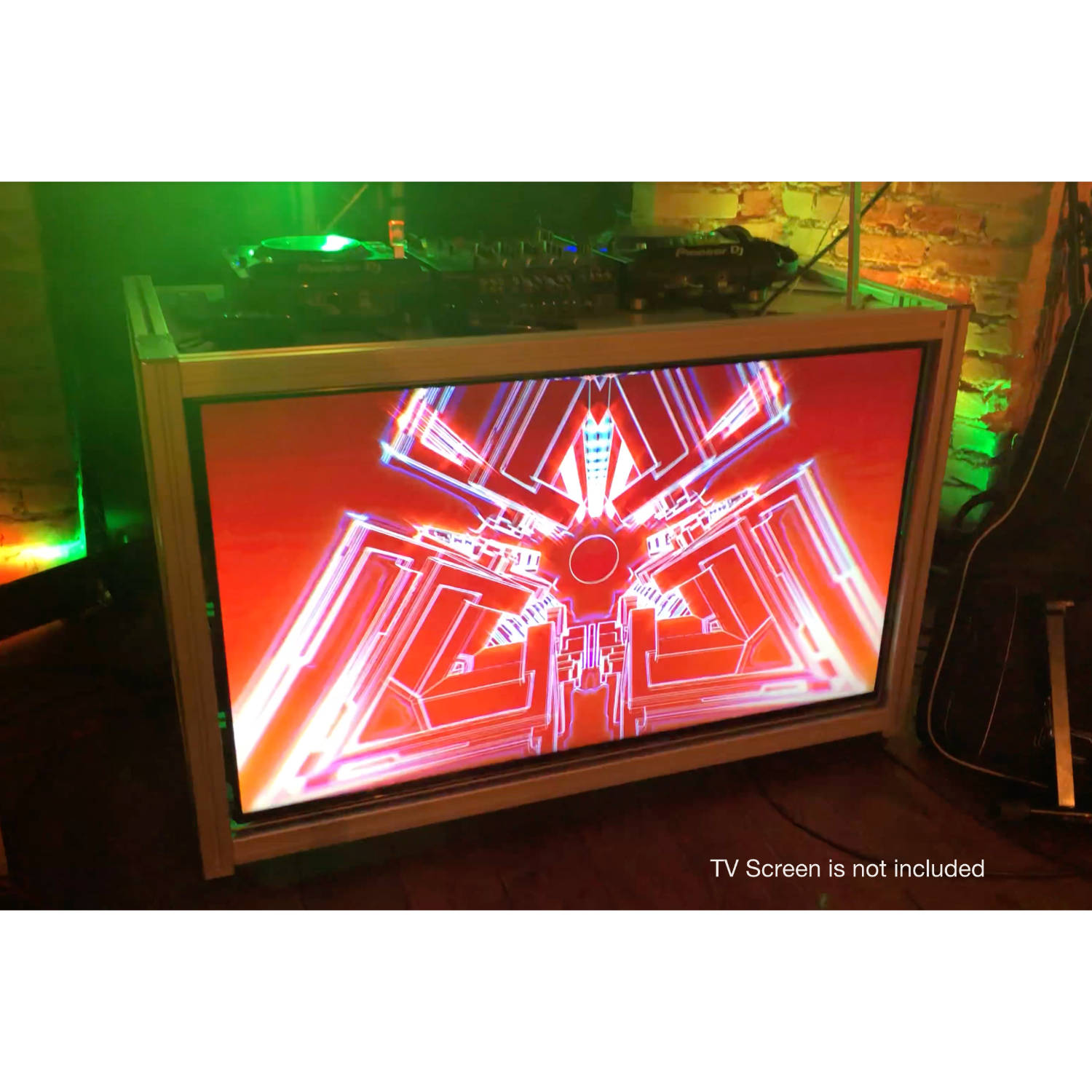 Video DJ Booth
$3,078.60
(incluido el 19% de IVA,
más envío
)
Tiempo De Entrega: 1-3 Días.*
Germany
New product. Coming soon...
The Nightmusic DJ Booth is a new, modern DJ Booth to impress your audience. Build for professional VJ performance. Also for DJ's, they play music with visuals, DJ-logo, pictures, video clips or advertising on the screen. Made by DJ's for DJ's!
Product features:
1. Professional DJ Booth, universally usable for Clubs or Mobile VJ/DJ's
2. Clear and modern design
3. Robust and stable construction made by aluminum
4. Perfect dimensions, designed for professional work
5. Front-Frame is universal optimized to install a 55" Flat-TV with VESA Standard
6. The TV is save and well-placed inside the Front-Frame
7. Easy transport, only 4 parts (Front- Frame incl. Flat-TV, 2x Side-Panel, Table-Top)
8. Easy to install, 10 minutes, only 6 Knop-Screws (no screwdriver necessary)
9. No wires on the table, 3 Grommet- Holes in the Table-Top
10. Unimpeded view from the audience to the equipment and work of the VJ/DJ
11. Not visible storage-space under the DJ Booth, because of Side-Panels
The TV Screen is not included!
| | |
| --- | --- |
| Opening for TV | 125 x 73 cm |
| Total table workspace | 125 x 66 cm |
{SCOpenGraph description=The Nightmusic DJ Booth is a new, modern DJ Booth to impress your audience. Build for professional VJ performance. Also for DJ's, they play music with visuals, DJ-logo, pictures, video clips or advertising on the screen. Made by DJ's for DJ's!} {SCOpenGraph image=https://www.nightmusic-dj-supply.com/images/nightmusic-records/products/vid-dj-bth-base.jpg}
| | |
| --- | --- |
| Dimensiones (Largo x Ancho x Alto) | 135 x 70 x 86.7 cm |
| Peso | 35 kg |