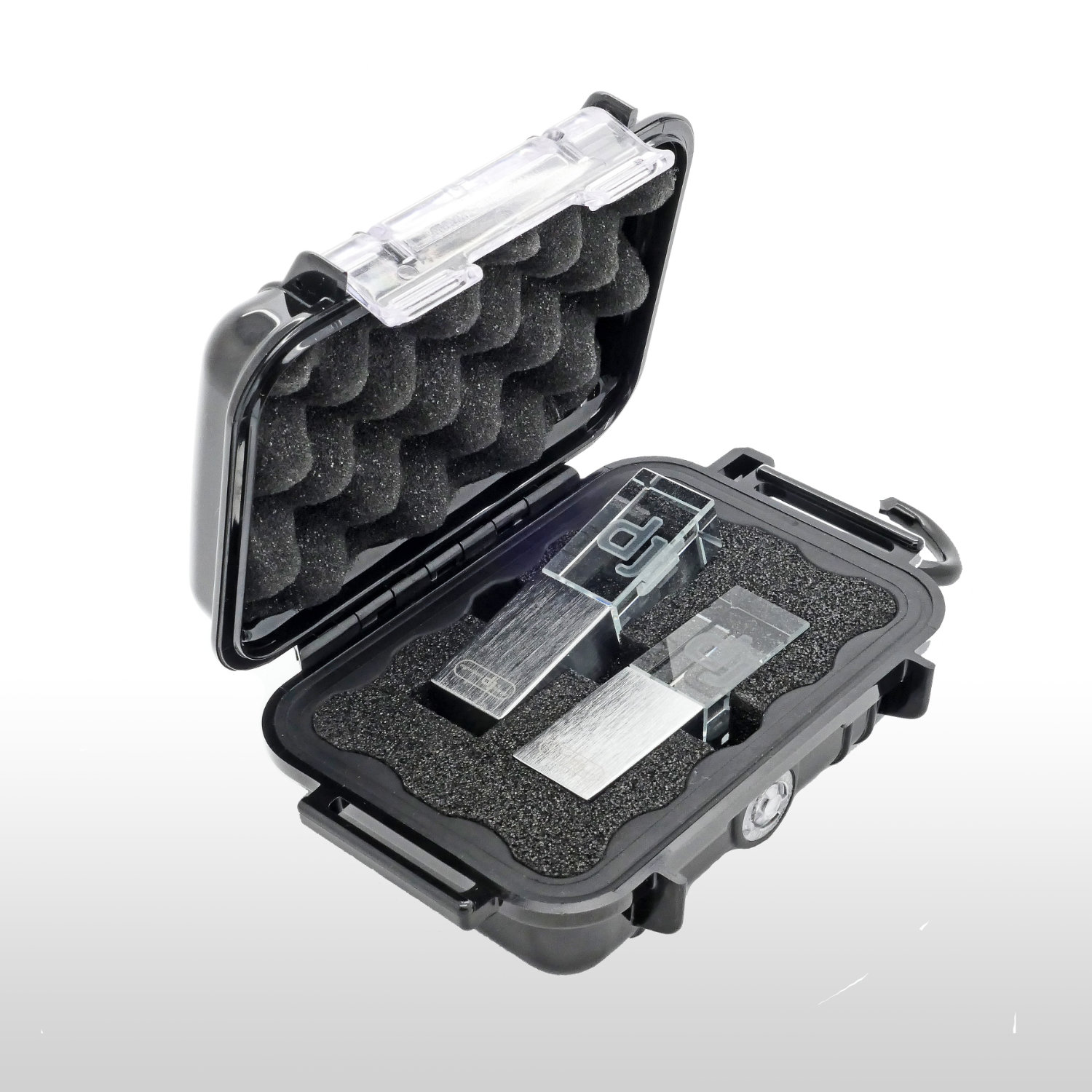 Bundle pair of Crystal DJ Sticks + Case
Price range : $125.86 to $293.86
Germany
SKU :
USB-BNDL-DJ-V3-16GB
Bundle consists of 2 pieces of Premium Crystal DJ Stick (red and blue) + Professional USB DJ Case
The stylish and robust metal design with flawless crystal body and cap is perfect for professional DJ's use.
High reliability and fast data rates with original high quality chip sets. Available in different memory capacities.
Depending on the model it lights up the acrylic crystal block with DJ logo in red or blue.
Matched for use with original Pioneer DJ equipment and Rekordbox.
Our USB 3.0 drive are fully compatible to USB 2.0. You can use our drive for HIFI and Car equipment without doubt!
Original patented product. European quality, laser engraving in Germany.
USB-drive with 16/32/64 or 128GB memory and USB 3.0 interface (downwards compatible)
16GB (up to 40MB/s writing speed, up to 130MB/s reading speed)
32GB (up to 70MB/s writing speed, up to 120MB/s reading speed)
64GB (up to 70MB/s writing speed, up to 120MB/s reading speed)
128GB (up to 100MB/s writing speed, up to 140MB/s reading speed)
The high-quality, robust professional box protects your Premium Crystal DJ Sticks and your valuable music files from moisture, dirt and heavy impact. The outer shell is impact-resistant and the inner shell is extremely shock-absorbing with its perfectly shaped on 2 pieces Premium Crystal DJ Sticks Inlay. In addition, the box has stainless steel fittings and an automatic pressure compensation valve on the front. The closure is easy to open and stable. Thanks to the snap hook, the box can be attached anywhere.
Inlay by size adjustment for all versions of the Nightmusic Premium Crystal DJ Stick.
{SCOpenGraph description=The high-quality, robust professional box protects your Premium Crystal DJ Sticks and your valuable music files from moisture, dirt and heavy impact. Included are two Premium Crystal DJ Sticks. The stylish and robust metal design with polished chrome body and cap is perfect for professional DJ's use. The ultimate eye-catcher in all clubs! Depending on the model it lights up the acrylic crystal block with DJ logo in red or blue. Matched for use with original Pioneer DJ equipment.} {SCOpenGraph image=https://www.nightmusic-dj-supply.com/images/nightmusic-records/products/case/nightmusic-dj-supply-case.jpg}
| | |
| --- | --- |
| Dimension (L x W x H) | 14.9 x 10.3 x 5.4 cm |
| Weight | 315 g |